Shopping Cart
Your Cart is Empty
Thank you for your business!
You should be receiving an order confirmation from Paypal shortly.
Exit Shopping Cart
At Sound-One we only use the best, professional PA equipment, some of which is listed below:
The X32 is a 40 channel digital band mixer which with two S16 digital stage boxes linked by a cat 5 cable to the desk allows each band member to have the mix they need whilst leaving the audience hearing crystal clear, high quality audio.
The desk has all the processing power you need including FX, gates, compressors, equalisers and much, much more!
We also have the ability to control the desk remotely from an I-Pad for when the desk can't be "out front"
Allen & Heath X-One4D DJ Mixer and Controller. This not only mixes but controls the DJ software for both DJ'ing and playing backing tracks for singers
Void Stasys 3 Series 2 mid-top speakers
You really have to hear these to believe them - Ours were specially made for us in black after hearing them in a dedicated demo room at PLASA (Professional Lighting and Sound Show). These are just about the ultimate mid-top speaker on the market and they retail well over £3,000 and we've got 4 of them. Believe it or not they cannot reproduce bass - which means we mount them on four 2400W double 18" folded horn Void Stasys X bass bins - Nice.....
The picture on the left is Pete and Alex from Void setting up one side of the rig with the extra lower mid enclosures for band work. The picture on the right is loading in at the Great Dunmow Carnival 2015 - 4 x Stasys 3's flown here on towers with 4 lower mid Stasys LF 12". 2 pairs of 2 x 18" Stasys X bins at the side with 2 x 18" Bins in the centre handle the bass duties. 2 Stasys 4's handle the infil as the stage is over 40' long. 6 x 12" wedges handle the monitor duties. The Stasys rig will comfortably cover 5,000 people at concert levels and double that for family events.
The Stasys X sets the standard for low frequency wide bandwidth loudspeakers. Its design perfectly integrates many new technologies to form a complete one box solution for all low frequency applications. Horn loading gives the Stasys X its lighting quick transient response and high efficiency, while resonant chamber technology adds extension down to 35Hz. Stasys X uses a total of five resonant chambers, two connect to its dual horn paths whilst the other three transmit via a series of tuned ducts. All we know is it is capable of rearranging your internal organs!
Made by our favourite mad scientists at Void Accoustics - These are our mid sized kit (750 Watts a box) suitable for most small to medium functions on their own or as monitors on the largest of band gigs (like Glastonbury!!). Just add bass bins for that really nice high quality rig for anything up to five hundred people. And yes - ours are in black!
Allen & Heath Mixers & Laptops
Allen & Heath 24 channel GL Mixer, laptop for background music or DJ'ing with FX driverack below and yes it's an old line but we really do know what all those knobs and faders do!
Driving our Stasys X Bass Bins we have the Void Infinite 8 amp (yes the 8 does mean 8KW - In one amp - mad!!). Mids are driven by an Infinite 5 and the high frequencies by an infinite 4. The latest generation of Infinite amplifiers build on the success of their predecessors. Infinite amplifiers have always been synonymous with reliability and sonic accuracy, needless to say this philosophy has been carried though with the new series 2 range. Voids' obsession with detail has resulted in many new features and improved specifications. A velocity sensing protection circuit has been added to all models that monitors back EMF, and a Class G output stage has resulted in an increase in output power and lower current draw. Void call this new output topography "Super G" and is only available in the new series 2 Infinite amplifiers.
The rack on the right is full of QSC PLX 3402's, 2402's and 1602's - and we think they are the best amps money can buy!! Both racks shown here are driven by a DBX driverack 2 in 6 out processors.
Yamaha DXR Powered Speakers
Our Yamaha DXR12 Powered speakers are 600W RMS per box with loads of processing power and the ability to mix a microphone, line level and an I pod without having to use and external mixer.
These are ideal as both the main speakers for smaller events / presenting and as monitors for bands / singers or given their high output for their size DJ booth monitors for club nights
The world's best lightweight, high-power speaker system" with 300 watts continuous, 1,200 watt peak power handling. Delivers over 125 dB continuous, 131 dB peaks (1 w / 1 m) at full power. 65° x 65° Constant-directivity horn allows use vertically or horizontally with identical coverage. Delivers better pattern control and projection than typical 90° horns Proven, reliable EV components including DL12BFH cast-frame 12-inch woofer and DH2010a pure titanium compression driver Ring-Mode Decoupling (RMD) delivers unequalled vocals and pure, accurate instruments and mids Rugged, durable polypropylene enclosure is light and strong.
We use these for small gigs and as singers monitors / in-fill on the larger shows
TFL12P8 and TFLV115SP4 (Passive Loudspeakers)
Proel' s TFLV/ TFL flying trapezoidal speaker series is a line of enclosures suitable for installation or touring use. The 12" cabinets are designed asymmetrically for wedge monitor applications, the 15" units are bass bins. Both are made of 18 mm birch plywood, incorporate a thick metal grille and stand adapters.
High quality woofers feature ISV™ (Interleaved Sandwich Voice coils) and die-cast baskets with double ventilation design for improved heat dissipation and to reduce power compression. The optimised mechanical excursion is granted by a unique DSS™ system (Double Silicon Spider), which controls the linearity of the transducer. Low distortion and excellent sound quality are furtherly improved by a DDR™ system (Double Demodulating Rings). Custom high frequency compression drivers feature titanium diaphragms, flat aluminium wire voice coils, low distortion and extremely good frequency response.
Proel's own SWG™ (Spherical Wave Guide) dispersion horn has a coverage of 70°Hx70°V and allows uniform dispersion and clear acoustic response..... So they are good then!!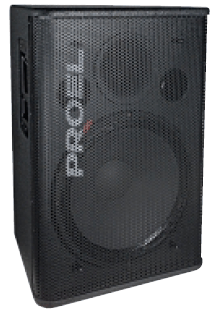 We use these for singers / small bands as we believe they are the best small format mixer available with built in FX (and it's made in Cornwall!)
ALLEN&HEATH's years of 'real world' experience with large format touring desks has resulted in many innovative touches being incorporated into the design of the PA Series of stereo live compact mixers. The range brings a classic, feature-packed pro audio design with the same superior build and sound quality to an even wider audience, so that now every aspirational performer or rental company supporting them can benefit from a truly professional system.
'Walk up and go' is a perfect description for the PA Series mixer – all the controls you expect are logically placed so that you stay in control under the pressure of any performance. The 4 band EQ on inputs and outputs and clever output routing are unique and will ensure you get the best out of the system, while features such as individual phantom power switches and SPDIF recording output add professional finishing touches.
Add sparkling clarity to your performance with the superior sound quality of a PA Series mixer.
/